Paver Paver Maintenance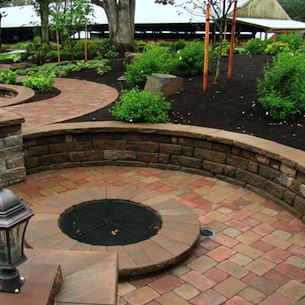 Patio Paver Maintenance
Patio Paver Maintenance - Patio Paver Overview
Most frequently, patio pavers are used in outside entertaining areas for the purpose of beautification of a home's landscape and overall curb appeal.
Homeowners love the flexibility that patio pavers afford them because they come in a wide range of colors, shapes, patterns, and finishes. There are three basic varieties of patio pavers. In almost every instance a paver will be constructed of brick, stone, or concrete.
Patio paver maintenanance is a crucial job for anyone who chooses to install these decorative outdoor finishes. In order to enjoy your patio pavers for many years, you'll only need to follow a few simple steps to maintain them.
The type of paver you are using will dictate the amount and sort of maintenance needed. For most pavers, this is clear cut.
Patio Paver Maintenance - Clay Brick Pavers
Clay brick pavers typically come with an irregular surface and this makes them repeatedly prone to cracking and chipping. If you have a paver that has become chipped or has a crack, you will want to remove it and replace it wtih a new paver. This is extremely easy to do yourself if you just have a few basic tools.
In order to keep your clay brick pavers looking shiny and new, you will need to employ a new finish sealer every couple of years. The surface finishes that are commonly available for brick paving include honed, polished, and flamed. After they are installed and cleaned the surface sealer is applied to preserve color and keep out damaging moisture - especially in areas of the country prone to frost.
Patio Paver Maintenance - Poured Concrete Pavers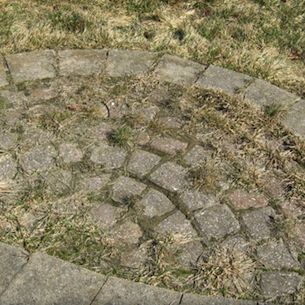 Patio Paver Maintenance - Or Lack Of It!
Should a concrete paver become damaged, it is extremely easy to change out for a new one. As with the brick pavers above, the homeowner can easily handle the replacement of concrete pavers with the same tools used for brick pavers.
On the other hand, concrete pavers do tend to get weeds in between pavers. Simply use a sealant or a pesticide on a regular basis and you'll avoid the weed problem. A sealer is also beneficial because it makes concrete much more comfortable for walking.
Maintenance Tips For All Pavers
One of the most crucial things you can do to keep your pavers looking good is to sweep or hose them down regularly. You'll enjoy your pavers for much longer if you take the time to pressure wash them once every year.
Seal your pavers as soon as they are placed and then seal them again every two or three years to ensure you'll enjoy them for years to come.
Following these simple maintenance tips will ensure that you enjoy your patio pavers for many years.
Additional Articles on this subject you may be interested in reading:
comments powered by

Disqus