Pavers for the Patio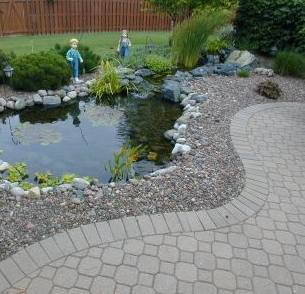 Pavers for a Patio - Great Outdoor Living Space!
Just What Are Pavers for a Patio?
In years past, those looking to build an outdoor patio had few options; rectangular bricks or poured cement were really the only choices.
Fortunately, nowadays there are many options available for the creative and green landscaper in the form of patio pavers.
Why Use Pavers for a Patio?
Pavers for a patio are brick-like blocks that are interconnected during the construction of an outdoor living space.
Pavers are made into an almost endless variety of colors, shapes, patterns and sizes.
Pavers for Patio - Material Types
Patio pavers can be made from three main types of raw materials: concrete, brick (made from clay), and natural stone such as granite or sandstone.
Pavers for Patio - Patterns and Designs
There are many different patterns and designs to choose from when planning your patio design. Let's look at some of the most popular paver shapes and designs: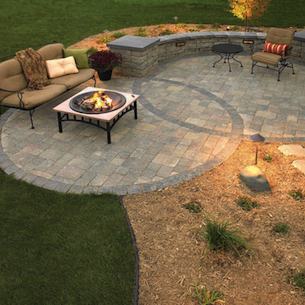 Pavers for a Patio - Numerous Design Options
Herringbone is the most popular paver shape used. It is a zigzag-shaped design, and is one of the more formal looking patterns.
Running bond is a simple yet versatile pattern, and very popular for use in patios or other small areas. The pavers are laid at an angle to create a curved pattern.
The basket-weave pattern is ideal for casual outdoor living spaces. Pavers are laid vertically and horizontally in pairs to create a pleasing design.
Pavers designed in circles is another popular, though sometimes difficult to install, design. Pavers are laid in a circular design, and the creation of this curved installation can be challenging to a do-it-yourselfer.
Installing pavers in a fan design creates a pattern of gentle arches, and is also widely used for walkways and driveways.
Using different sizes or shapes of pavers can be used to create random or mixed designs to bold effect.
The Growing Popularity of Pavers for a Patio
There is a long list of reasons why patio pavers are becoming a popular building material for constructing outdoor patios and entertainment decks. The list of benefits includes:
Affordability
Easy repair
Durability
Aesthetics
Low maintenance
Strength
Ease of installation
Fast serviceability
Creative flexibility
The Costs of Pavers for a Patio
Poured-in concrete is often used for patio paving instead of patio pavers due to its lower cost, but concrete slabs will eventually crack and split. The joints between pavers eliminates the cracking normally associated with conventional asphalt or concrete pavements.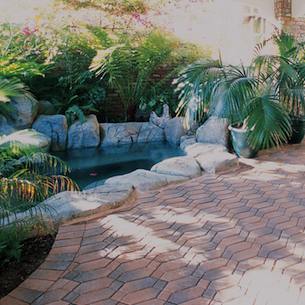 Pavers for a Patio - Combine With Other Features
In the patio paving cost spectrum, the next step is the concrete patio paver. They cost less than brick pavers and natural stone pavers because the cost of concrete's raw materials is much less. Concrete pavers are a good choice for those working with a modest budget. Colored and stamped concrete pavers are available to accent your outdoor space. Like concrete slabs, concrete pavers are more susceptible to cracking, which can be difficult to repair.
For those with a higher budget can choose from brick or natural stone pavers. They hold up well in harsh climates and are less likely to crack. These types of pavers are available in a wider variety of colors, textures, and patterns.
There are new alternatives to traditional brick and stone pavers that are water permeable, meaning that water passes through them into the ground below. This reduces water runoff and the need for retention ponds, making them a sound choice for those looking to have a green, environmentally-friendly outdoor living space.
Pavers for a Patio: A Versatile Choice
Pavers for a Patio are quickly becoming the product of choice for patio spaces due to the large variety of shapes, colors, and sizes available. With patio pavers, the look and feel of your outdoor living space is limited only by you and your home builder's creative vision.
Additional Articles on this subject you may be interested in reading:
comments powered by

Disqus